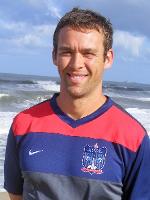 The 2019 season will be Mills' 7th at the helm of the VA Wesleyan men's soccer program and he has already seen impressive success in the Old Dominion Athletic Conference in that time.
He guided the Marlins to the 2013 ODAC Championship and first appearance in the NCAA Tournament since 2009. The team's 16 wins were the most by the men's soccer program since the 2007 season, earning Mills ODAC Coach of the Year honors.
In his first three years as the mentor of the Marlins, Mills has developed two ODAC Rookie of the Year winners.
Prior to his time as head coach of the Marlins, Mills served as an assistant for the men's soccer program for five years and as associate head coach for an additional season. He was an instrumental part of the 2007 NCAA Sweet 16 team and 2008 ODAC Championship squad coaching staffs.
A staple on campus, Mills graduated from Virginia Wesleyan in 2006 with a degree in recreation and leisure studies, with an emphasis in sport, tourism, and recreation management. He was a three-year starter for the men's soccer team, earned All-ODAC honors three times and all-state accolades twice. The squad went 57-17-5 and 27-7-2 in league play during his time as an athlete.
He was an ODP District Staff member in 2010 and has served on the staff at camps at Virginia Tech, University of Virginia, and the U.S. Naval Academy. He owns a USSF National "D" Coaching License and an Advanced Diploma from the National Soccer Coaches Association of America (NSCAA).
Career Highlights
ODAC Champions - 2013
ODAC Coach of the Year - 2013
NCAA Appearance - 2013
All-ODAC Honorees - 18
All-State Honorees - 6
All-Region Honorees - 2
CoSIDA Academic All-District Selections - 1